Fear is something we cannot afford to play with. If we put up with it, and try to "learn to live with it," it will only get worse and we'll be inviting all kinds of chaos and problems into our lives.
Children, as well as adults, have to deal with fear. One way to eradicate it, is by speaking scriptures.
I created this confession card for children. When I taught in the children's ministry, I enjoyed giving the children their own confession and having them read it out loud as a group. Doing this every week is a powerful way to get the word in them.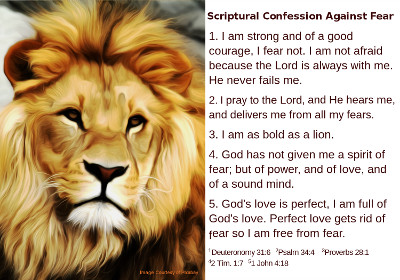 ---
1. I am strong and of a good courage, I fear not. I am not afraid because the Lord is always with me. He never fails me.
2. I pray to the Lord, and He hears me, and delivers me from all my fears.
3. I am as bold as a lion.
4. God has not given me a spirit of fear; but of power, and of love, and of a sound mind.
5. God's love is perfect, I am full of God's love. Perfect love gets rid of fear so I am free from fear.
1. Deuteronomy 31:6 2. Psalm 34:4 3. Proverbs 28:1 4. 2 Tim. 1:7 4. 5. 1 John 4:18