Are you dealing with knee pain from knee injuries, bursitis, arthritis etc.? In addition to getting the medical help you need, build up your faith and believe God to heal your injury.
Proverbs 4:7 tells us that wisdom is the principle thing which is why I made reference to it in this confession.
This jpg can be downloaded and printed on white cardstock, then carefully cut around the edges. It's size is about 4 x 6 inches at 200 dpi.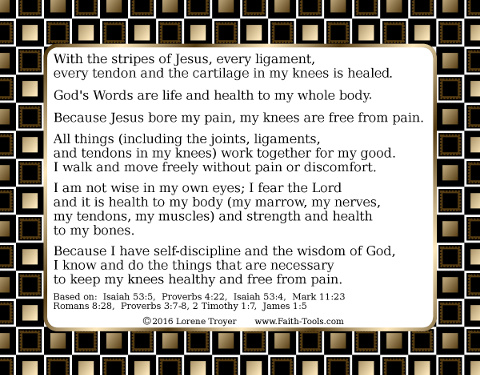 With the stripes of Jesus, every ligament, every tendon and the cartilage in my knees is healed.

God's Words are life and health to my whole body. Because Jesus bore my pain, my knees are free from pain.

All things (including the joints, ligaments, and tendons in my knees) work together for my good. I walk and move freely without pain or discomfort.

I am not wise in my own eyes; I fear the Lord and it is health to my body (my marrow, my nerves,
my tendons, my muscles) and strength and health to my bones.

Because I have self-discipline and the wisdom of God, I know and do the things that are necessary to keep my knees healthy and free from pain.

Based on: Isaiah 53:5, Proverbs 4:22, Isaiah 53:4, Mark 11:23 Romans 8:28, Proverbs 3:7-8, 2 Timothy 1:7, James 1:5