It's never too early to teach your children to speak scriptural confessions over themselves. This free printable has a cute image of a boxer pup watching a black and white rabbit in the grass.
Print it out for your kids or for your class, if you teach Sunday School. Encourage them to speak this confession over themselves daily.
The wording is as follows:
God has not given me a spirit of fear; but of power, and of love, and of a
sound mind.

Jesus took away my sicknesses; I am always healthy.

My speech is wise and I help others learn. I have perfect peace because I trust in the Lord; I never worry about anything.

My steps are ordered by the Lord; I'm always at the right place at the right time. I always hear what God is saying to me and I never follow the wrong voice. God's angels protect me and keep me safe wherever I go. I am blessed coming in. I am blessed going out.

Based on 2 Timothy 1:7, Isaiah 53:4, Proverbs 16:23, Isaiah 26:3, Psalm 37:23, John 10:5, Psalm 91:11, Deuteronomy 28:6
This PDF is meant to fit on a half sheet of paper, finished size should be under 5 1/2″ by 8 1/2″. You may need to figure out the best settings for your printer to get it to the right size.  Carefully cut around edges after it's printed.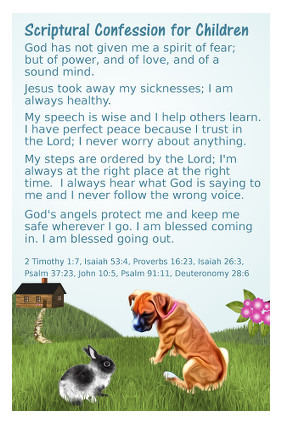 Not for commercial use, please.