A few weeks ago, I created the Psalms 91 confession. Today, I created another protection confession using different Bible scriptures.
Click on the download button and right click the image to save it to your computer. Print it out on white cardstock or paper and cut it out with a pair of scissors.
Keep it in a place where it'll be convenient for you to pick it up and read it. Read it out loud at least a dozen times a day. Say it with conviction (like you really believe it) and think about what you're saying. (Don't just read through it mindlessly.)
This will help build your faith (faith comes by hearing and hearing by the Word of God- Romans 10:17)  In Mark 11:23, Jesus said you can have what you say, if you believe. The more you say it, the more you believe it.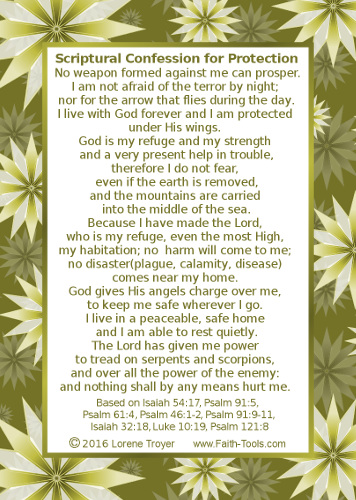 ---
Here are the Words on the confession:
Scriptural Confession for Protection
No weapon formed against me can prosper.
I am not afraid of the terror by night;
nor for the arrow that flies during the day.
I live with God forever and I am protected
under His wings.
God is my refuge and my strength
and a very present help in trouble,
therefore I do not fear,
even if the earth is removed,
and the mountains are carried
into the middle of the sea.
Because I have made the Lord,
who is my refuge, even the most High,
my habitation; no harm will come to me;
no disaster(plague, calamity, disease)
comes near my home.
God gives His angels charge over me,
to keep me safe wherever I go.
I live in a peaceable, safe home
and I am able to rest quietly.
The Lord has given me power
to tread on serpents and scorpions,
and over all the power of the enemy:
and nothing shall by any means hurt me.
Based on Isaiah 54:17, Psalm 91:5,
Psalm 61:4, Psalm 46:1-2, Psalm 91:9-11,
Isaiah 32:18, Luke 10:19, Psalm 121:8