Does listening to the news put a knot in your stomach? Are you concerned about the trouble that surrounds you on every side- tornadoes, earthquakes, murders, incurable diseases? No denying that it's bad out there, but did you know, if you are a child of God, you can be safe in a world that's filled with trouble.
God's protection is not automatic though. It requires faith. One way to activate your faith for protection is by speaking and declaring Psalm 91 over yourself and your family. Not once or twice, but again and again and again, until you know, without a doubt, that you and your family are protected.
Here is a free printable download you can use to build and activate your faith: To get the best quality, click on the download button below the image.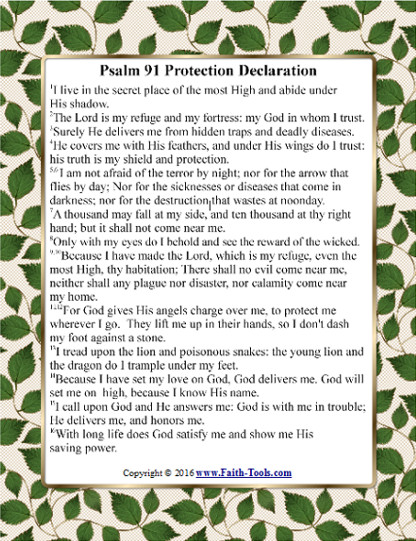 The words as they appear on the download:
1 I live in the secret place of the most High and abide under His shadow.
2 The Lord is my refuge and my fortress: my God in whom I trust.
3 Surely He delivers me from hidden traps and deadly diseases.
4 He covers me with His feathers, and under His wings do I trust: his truth is my shield and protection.
5,6 I am not afraid of the terror by night; nor for the arrow that flies by day; Nor for the sicknesses or diseases that come in darkness; nor for the destruction that wastes at noonday.
7 A thousand may fall at my side, and ten thousand at my right hand; but it shall not come near me.
8 Only with my eyes do I behold and see the reward of the wicked.
9,10 Because I have made the Lord, which is my refuge, even the most High, my habitation; There shall no evil come near me, neither shall any plague nor disaster, nor calamity come near my home.
11,12 For God gives His angels charge over me, to protect me wherever I go.  They lift me up in their hands, so I don't dash my foot against a stone.
13 I tread upon the lion and poisonous snakes: the young lion and the dragon do I trample under my feet.
14 Because I have set my love on God, God delivers me. God will set me on high, because I know His name.
15 I call upon God and He answers me: God is with me in trouble; He delivers me, and honors me.
16 With long life does God satisfy me and show me His saving power.