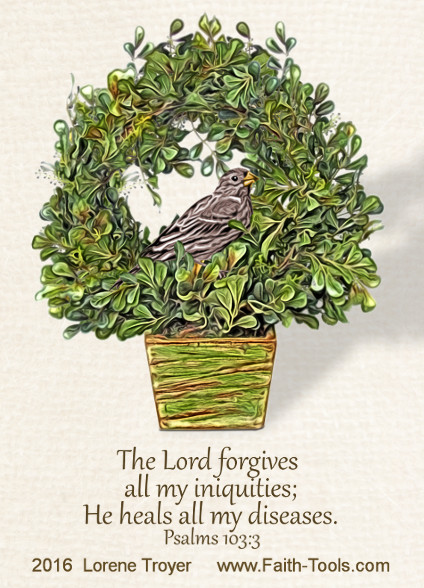 Speaking scriptures and faith filled words over and over will build your faith and cause your answers to manifest. Romans 10: 17 says, "Faith comes by hearing and hearing by the Word of God." The more you hear yourself speaking those things that the Word of God say belong to you, the more you'll believe it and bring it into your life.
Raymond T. Richey, a healing evangelist born in 1893, had contracted tuberculosis while working in the ministry. He was confined to bed. By September of 1919, he had given up on life and he was upset with God for not healing him. God spoke to him and reminded him that the church was believing for his full recovery and also reminded him of the miracles He had done in Ritchey's family in the past. Richey was repentant and started saying, "Dear Lord, forgive, I do remember and I do believe."
He opened the Bible and read Psalm 103:3, "Who forgiveth all thine iniquities, Who healeth all thy diseases." Richey slowly got out of bed and whispered in a weak voice, "I praise You, Lord, I praise You, Lord, I praise You, Lord. I know You are healing me." Each time he praised God, his voice got stronger until he was shouting. His strength increased rapidly and he knew he was healed.
He was staying with some friends at the time and went to find them. When Richey found them, he shouted, "The Lord has healed me. The Lord has healed me. The Lord has healed me … "
As he was running up the steps to his room where he was staying, "the devil whispered, 'Your lungs may be healed, but don't forget that your heart is in very bad condition and you have been warned that any sudden excitement or over exertion is liable to prove fatal.' The reply to this was, 'God has healed my heart as well as my lungs,' and back down the steps he ran and up again and, to quote him, he has been 'running ever since.' "
After that time his lungs remained healthy and strong. He had meetings almost continually; at times up to seven meetings a day.
In this example, once Mr. Ritchey realized God wanted him well and started declaring out of his mouth that he was healed, his body lined up and the sickness and weakness had to go.
From the book "What God Hath Wrought in the Life of Raymond T. Richey" by Eloise May Richey.